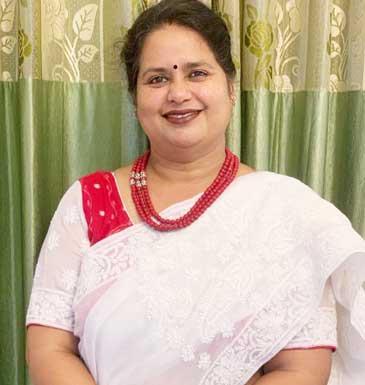 Mrs. Salony Priya is a renowned counseling psychologist working in the area of Education Management, Human Development & Training, student & teacher empowerment, parental guidance & comprehensive counseling for nearly 18 years and her interventions have reached out to several educational institutions, corporate and social organizations. She is founder Director of Ummeed Counselling & Consulting services, a multispecialty positive psychology institution based in Calcutta where she empowers, enables and energizes populace with therapies, workshops trainings and individualized sessions. Mrs. Salony Priya is also Trustee of UMEED FOUNDATION an organization that works for underprivileged children in field of mental health.

She is advisor for Mentor, Educational Initiatives, recognized as progressive voice in field of education. She has done more than 1500 training programmes at state education boards, at Administrative Training institutes for civil servants, CBSE schools and ICSC schools on key areas of Life Skills, and positive mental health in more than 18 states of India. She believes in power of positive psychology and feels it has much larger role to play in educational and social psychology. Her interventions in the education sector have been instrumental in developing organizational vision in various institutions, involving management, executives, Heads, teachers and parents, particularly her path breaking work on gender education, sexuality, addiction, aggression, abuse and adolescent health. She is consultant to more than 30 educational institutions & groups and believes and advocates working with all stakeholders.


---
She has been responsible for planning, developing, implementing, coordinating and managing interventions and programs encompassing all aspects of Human Resource Management in the education sector and has been closely associated with 'progressive schooling wave'. Her powerful insights and ability to motivate people have made a profound difference in the lives of all who have come in contact with her. Her work not only inspires people to reclaim their power, she also teaches the step by step process to put it into action. With simple, clear techniques she is able to show her clients how make long lasting, progressive changes.

Her commitment, focus, high energy are the qualities that you will experience with each encounter. Her programs challenge you to take a good look at yourself and support you in every step you take towards creating an empowered life, business or community. The One on One counseling sessions, Relationship Building Program and Teen and Young Adult Empowerment Program she offers are absolutely transformational!

She also teaches a wide variety of empowerment workshops, speaks to groups and businesses interested in bettering themselves, and publishes articles on a regular basis. She has been recognized by MENTOR MAGAZINE as a leading voice in education in the country and is on their advisor board.

She has been the contributor to Progressive educators magazine starting the positive psychology humanistic wave.

She has addressed Heads of schools in the AISC Odisha and Chattisgarh chapter in September 2013, invited to address Heads of Army schools at FDRI, Delhi and AISCAP at Vigyan Bhawan.
Changing role of counseling psychologist
For past eighteen years she has been associated as a counseling psychologist, with the progressive schooling set ups. The role of a guidance counsellor has changed drastically during this period and it has evolved as a dynamic, multifaceted support system that caters to varied needs emerging in the school systems.
Mrs. S. Priya has strongly advocated for evolving SCHOOLS AS LEARNING ORGANISATION. Learning organizations are schools where people continually expand their capacity to create the results they truly desire, where new and creative patterns of thinking are nurtured and where people are continually learning and growing together. For continual improvement to take place, everyone needs to know what is expected of him or her.
Teachers must understand their role in the larger context of the system and be aware of how these roles change as quality improves. There can be no innovation through continuous process improvement without research and no research without adequate trained staff and educated employees. Her workshops and consultancy with school management have addressed these core issues in a very need based model for the school based on its culture, vision and goals.
Some of her work in the organizations as educational consultant:-
Instrumental in customizing of performance appraisal system. Also assisted in thoroughly familiarizing and training, both appraisers and appraises the process of appraisal, performance development and coaching.
Promote and coordinate employee activities, special process and programs that develop team building and a positive work environment.
Trouble shoots issues and present recommendations to the management.
Provide counseling and training to employee relation issues.
Experienced in organizational restructuring to meet the challenges of changing environment and competition.
TEACHER EMPOWERMENT
She has experience of working with schools of ICSE Council, CBSE board, U.P. Board and West Bengal Board, conducted more than 1100 workshops. Each of her workshops are customized training packages based on identifying training needs, research and development of human resource.
She strongly advocates training of teachers to empower them and enable them to act as guidance counselors and has trained counselors and pastoral teachers to act as key members of guidance and student services teams.
Some of her highly successful Teacher Development Initiatives are as follows:-
Class management techniques, class control, building a class community
Self Development by introspective tools and psychometric testing
Team building in education
Creating a caring environment in the classroom
Motivation strategies for the average, above average and under average students
Emotional Intelligence for teenagers
Multiple Intelligences to understand learning styles of young learners
Discipline by design-Proactive disciplining methods
Understanding behavior and underlying psychological needs
Sexuality education for educators
Grooming of next level teacher leaders in Mentoring program
Empowering and training of coordinators and headmistress
Identifying learning styles of students
Skill based teaching to make each child smart
Handling mixed ability classrooms
Understanding psychological needs in students and developing age appropriate strategies
Teacher as a counselor
SPECIAL DEEDS FOR SPECIAL NEEDS-Workshop on LD - further develops insight for teachers in understanding why a child cannot perform even when he tries to, avoid labeling of students, developing empathy and making the classrooms truly a learning environment for all kinds of children.
Professional Qualifications
Masters of Science in Counselling and Behavior Psychotherapy
Masters in Psychology with specialization in organizational and developmental (child) Psychology
Vimhans, Delhi - Neuro Linguistic Programming (NLP) trainer - NLP is used extensively as most effective psychotherapy with eclectic multidisciplinary approach. It focuses on structure of excellence demonstrating how to communicate effectively and influence cognitive restructuring of individuals leading to sustained behavioral modification.
Play Therapist – an effective tool for intervention with children with problems as aggression, trauma, loss, extreme avoidance or phobia.
Personality Assessment – is useful to understand dynamics of human behaviour
Member of following associations:
Life Member of Christian Counselling Centre - Vellore
Member American School Counsellor's Association
Member Ethical Committee Cancer Research Centre
Member of University WOMEN'S Association
Member of Society for National awareness
Consultant to -
The Heritage School, Kolkata - Consultant & Counsellor (since 2001)
Citizen Public School, Siliguri School Advisor
DPS Megacity, Calcutta - Psychologist and HR trainer (since May 2005)
Mentor Management Services-Competency management and trainer
Lions Greater Vidya Mandir School project, Kolkata - consultant for training, and system designing. (since 2004)
Tyndal Biscoe & Mallinson School, Srinagar - consultant for training and empowering of teachers and Heads
R.K.Sarda Vidya Mandir Raipur - Counselling consultant
Douglas Memorial H.S.School - Advisor school
Little Scholars - Advisor school
St. Xaviers Institution - Consultant
Vidyanjali High School - Consultant
M.C. Kejriwal - Consultant
Heritage Institute of Technology – personality enhancement for engineering college
Rockvale Academy, Kurseong - Advisor & Consultant
B.D. Pradhan Institute of Management, Kurseong - Advisor
BRCM Vidyagram, Bahal – Consultant
BRCM Gyankunj – Advisor
Frank Anthony School - Kolkata – Advisor student interventions
DPS Howrah - Advisor & HR trainer
Also associated in social work at the college level for adult and child literacy program. Facilitated programs for old age homes and children of Railway employees under SERWWO welfare project.